400 at-risk youth from Daniel Webster and Starr King Elementary school served by local Potrero Hill based non-profit…..
Friday, December 15th, Santa visited the local schools, handing out gifts to every child. It was a dream for most of them who would otherwise not have the chance for a holiday gift. LYNC (Linking Youth, Nurturing Community) was founded in 2005 by Timberly Hughes (Jay's Deli) and Ezra Holland, a faculty member from San Francisco State University with the idea to collaborate successful Bay Area non-profit organizations serving at-risk youth with the kids on Potrero Hill.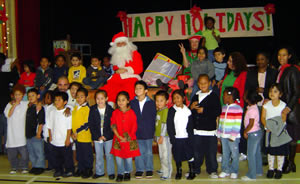 LYNC has been working closely with both schools implementing the Pacific Leadership Institutes (PLI) philosophy of engaging children through outdoor adventure training. In October the children participated in a ropes course at Fort Miley, in December they participated in a ropes course at Mission Cliffs and have been participating in a bi-monthly mentoring program. LYNC's Potrero Hill program is a model being developed to implement throughout San Francisco and the goal is to continue to reach the Potrero Hill Community on a regular basis. LYNC has partnered with Pathways for Kids for an 11 week summer program utilizing the coaching skills of local Bay Area coaches in 4 different sports.
LYNC has also partnered with SF Food Bank and Jay's Deli to support the local families and schools with meals and groceries throughout the year.
Debbie Ruskay, a 4th grade teacher at Star King states, "My whole class has been able to go to both Mission Cliffs and Fort Miley Ropes Course. They have learned to use their determination, courage and perseverance to complete the activities on each trip. They have practiced working together and supporting each other during their climbs. Each child has been successful and has been overjoyed at being able to participate. I am grateful that my students have been invited to participate."
For more information regarding LYNC and to support the local schools, please contact either Timberly Hughes at 415-824-1288 or Ezra Holland at 415-948-7725.